Yamunotri Yatra By Helicopter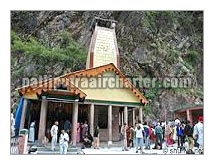 Goddess Yami (also known as Yamuna or Yamini) resides on the earth in the form of River Yamuna, which begins its journey at Yamunotri, a holy town located in Uttarkashi district of Garhwal Himalayas. Yamunotri Temple at the foothill of Kalind Parvat (a sacred mountain dedicated to God Surya or Sun, father of Yamuna) is visited as a part of char dham destinations, each located in Uttarakhand State. The place located at a height of about 3,250 m. above sea level flaunts splendid beauty and offers wonderful trekking opportunities apart from temples, thus inviting nature lovers, pilgrims and adventurers in huge numbers.

Yamunotri Temple and History The holy Yamunotri Temple is located on the banks of River Yamuna near to two hot water springs named Surya Kund and Gauri Kund. A black marble idol of Goddess Yami (who is also the twin sister of Yama, the God of death in Hindu mythology) is worshipped inside the temple. A popular tradition is to boil rice and potatoes in the water of hot springs and offer the same as prasada (religious offering) to the Goddess. Devotees first worship Divya Shila (divine rock) near the temple before entering the temple.