Gangotri Yatra By Helicopter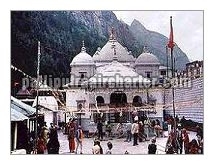 Gangotri the picturesque pilgrimage in the Himalayan hinterland is the holiest place in the Ganges, the river of life, touched earth for the first time. Located 99 km from the music Uttrarkashi meters.A 3140 chapel dedicated to the goddess was built 250 years ago by Amar Bahadur Thapa, the Gorkha commander. According to mythology, Goddess Ganga - the daughter of heaven, manifested in the form of a river to absolve the sins of King Bhagirath's predecessors, following his severe penance of several centuries. Lord Shiva received into his matted hair to minimize the immense impact of his fall.

Came to be called Bhagirathi at her legendary source. Gangotri Pilgrimage Tour, the physical source of a sacred river is Gaumukh, 18 km. further upstream, along the Gangotri glacier. Many pilgrims trek up to provide a source of prayer, either on foot or ponies. The verdant valleys, dense forests and mountains offer excellent opportunities for trekking and mountaineering adventure fans.