Agusta 109 Helicopter Charter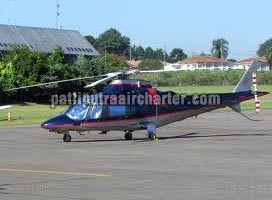 The AW109 Power twin turbine helicopter from Agusta Westland is a market leader in serving the needs of the corporate community. Today's dynamic global business environment rewards those able to react to opportunities decisively and quickly. The AW109 Power enables you to meet these demands.

The AW109 Power with a typical capacity of 6 passengers, combines safety attributes dual pilot instrument flight capability and technically superior operational characteristics such as a 154 kts / 285 kph cruise speed with air-conditioned, spacious passenger cabin. With the added benefit of internal and external baggage space the AW109 provides superior comfort to executive and VIP passengers.