Air Ambulance Services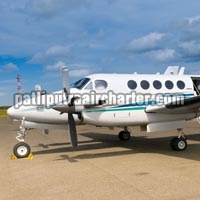 Bed-Side To Bed-Side Patient Transfer

Air Ambulance Service & Medical Tourism Available Here For Within India & The Worldwide - Our medical flight team includes experts in the fields of cardiology, pediatrics, neo-natal and intensive care unit (ICU), and is supported by the most advanced medical technology. The dedicated Medvac fleet includes a fully customizable single & twin engine helicopter Bell 407, Agusta 109 and Aircraft like- Cessna Caravan 208B, Pilatus PC12, King Air C90B, Super King Air B200, Citation S2, Citation Jet, Citation Excel to accommodate one or two patient, medical team, and one or two family members. We are reliable Medical Air Ambulance provider in Delhi.

We offer complete Bed-side to Bed-side transfer, capable of reaching even the most distant destinations and operating cities like- Andhra Pradesh, Hyderabad, Vijayawada, Telangana, Cochin, Gujarat, Ahmedabad, Surat, Kandla, Bhuj, Allahabad, Agartala, Aizol, Silong, Lilabari, Amritsar, Bhubaneswar, Lucknow, Bhopal, Bikaner, Jaishalmer, Chandigarh, Dehradun, Pant Nagar, Kullu, Simla, Jammu, Srinagar, Adampur, Ludhiana, Gorakhpur, Guwahati, Silchar, Dibrugarh, Indore, Jabalpur, Jamshedpur, Jodhpur, Kanpur, Kolkata, Mumbai, Nagpur, Kolhapur, Solapur, Akola, Latur, Aurangabad, Patna, Gaya, Raipur, Ranchi, Rewa, Udaipur, and Varanasi, and the Air Ambulance Services are reliable.. Call. +91 9891645533 / 9891646533 (24/7) or info@patliputraaircharter.com / Patliputra456@gmail.com .